Toners are clear, translucent solutions. They are cleansing agents typically designed to freshen the tone and prepare the skin for applying moisturizer. They help in shrinking the appearance of pores and stimulate a cooling sensation.
Toners keep your skin hydrated and alleviate the puffiness and redness if any. Continued application of a suitable toner can help improve skin quality, making it look healthier and radiant by restoring skin moisture.
There are several toners booming in the market today. However, picking the right toner suitable for your skin tone and designed specifically for your skin requirements is extremely important. Buying a toner randomly without much knowledge can affect your skin and cause irritation.
If you have a dry or sensitive skin type then you should look for an alcohol-free formula that contains humectants, emollients as they help to maintain moisture balance. Make Glycerin and Hyaluronic Acid your best friends. You can check these constituents behind the product. It is recommended to apply a light moisturizer after toner, especially for dry skin.
If you have a normal-to-combination skin type then you should look for toners that contain low levels of ethanol and humectants and which are paraben-free.
If you have an oily skin type then you should look for more ethanol-based products as they remove excess sebum and high-tanning-containing ingredients to provide astringency.
Although choosing the right toner can be overwhelming, you should be very cautious about what toner you are buying since it directly goes into your skin. There have been several cases of skin damage due to irritation, stinging, and triggering of bumps.
Customers often get confused due to mixed reviews while buying a toner. Please remember, the stinging effect on one person can be a cooling sensation to another. It's just a matter of recognizing your skin type and buying the right toner. You should carefully do your research before placing your order.
Here are the top 5 toners in India right now that you should try today.
5. KAMA AYURVEDA PURE ROSEWATER
Kama rosewater is a good non-alcoholic refresher that helps remove the residue from previous cleansing procedures such as removing makeup. It refines the pores and tones the skin by plumping hydration, making it ready for moisturizing treatment. You can use this under makeup instead of a moisturizer if you've oily skin.
Pros:
Natural astringent
Balances pH level
Tightens pores
Non-alcoholic
Cons:
Quite expensive
It contains fragrance
Best Suited for: All skin types.
4. DERMALOGICA ANTIOXIDANT HYDRA MIST
It has white tea, bamboo, and pea extract that soothes and protects your skin from damage and premature aging. The bamboo and pea extract stimulates hyaluronic acid formation that boosts hydration and elasticity. It's a refreshing mist that can be spritzed on your face all through the day.
Pros:
Paraben-free
Vegan
No artificial fragrance and colors
Cruelty-free
Gluten-free
Antioxidant shield
Help reduce fine dryness lines and prevent the signs of aging.
Cons:
Best suited for: Oily and sensitive skin.
3. DERMAFIQUE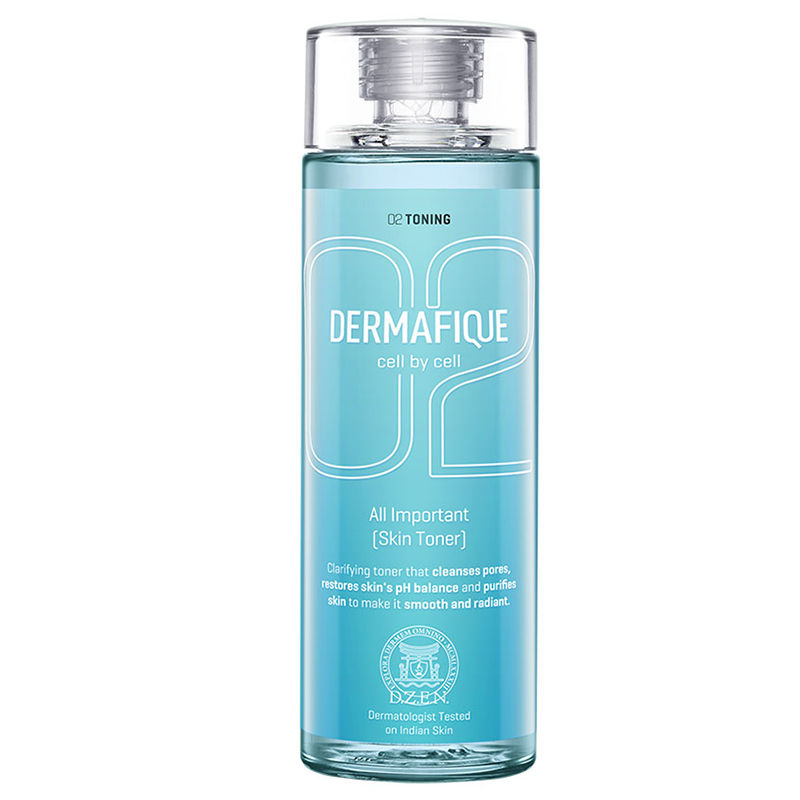 It's an alcohol-free skin toner that removes dead cells to reveal a new layer of fresh skin cells. It is enriched with the goodness of hyaluronic acid, Vitamin E, and antioxidants that are all beneficial to maintain skin health. It is also a humectant-rich formula that keeps the skin hydrated and gently opens the pores and removes trapped micro-particles.
Pros:
Alcohol-free and paraben-free
Keeps the pH level of the skin balanced.
Enriched with the goodness of Vitamin E and hyaluronic acid
Cleanses pores and removes trapped microparticles
Contains glycolic acid, which is an exfoliating agent- AHA
The toner gives a nice glow.
Makes skin feel smooth.
Cons:
It contains fragrance
Glycolic acid can make your skin quite tingly after application for a few minutes, which is normal.
Best suited for: Acne-prone, combination, and dry skin.
2. NEUTROGENA HYDRO BOOST EXPRESS HYDRATING SPRAY
It's a refreshing toner that gives your skin a shower of fresh hydration and refines skin immediately. It contains glycerin, which absorbs moisture from the air to hydrate skin, and olive extract prevents moisture loss. The toner leaves your skin supple and gives a fresh glow. It does a great job of balancing pH and removing all the excess oils and dirt. Anti-oxidant olive extract formula strengthens the skin by repairing skin barriers damaged by the environment.
Pros:
Repairs skin damage
Restores skin's suppleness for luminous, bouncy skin
Non-comedogenic, thus it won't clog pores.
Tightens the skin pores
Cons:
It contains fragrance
Contains paraben
Best suited for: Oily and sensitive skin
1. PLUM GREEN TEA TONER
It's an alcohol-free toner formulated to provide refreshing toning to the skin. It contains natural antioxidants such as green tea extract that help protect the top layer of the skin from environmental aggressors such as UV rays, pollution, and other oxidative radicals. The Green Tea extract stops the formation of new acne and kills the bacteria causing acne from the root itself.
It contains glycolic acid which helps in removing dead skin cells from the top layer of your oily, acne-prone skin.
Pros:
It's a non-comedogenic emollient
It's paraben and phthalates free
It's free of silicones and SLS.
Gently exfoliates debris and dead cells off the skin
Anti-inflammatory, anti-bacterial.
Provides the skin with nourishing antioxidants to decrease the signs of aging
Cons:
Glycolic acid can make your skin quite tingly after application for a few minutes, which is normal.
It contains fragrance
Best suited for: Oily and acne-prone skin.
Takeaway
Everyone's skin is different, therefore, always do a patch test before using a product you haven't used before. There are also many fake or duplicate products being sold online on various eCommerce websites which makes us question the credibility of the original product.
Many skin care products contain glycolic acid, which can leave a tingling sensation on your skin for a few minutes after application. It is completely normal. However, if you're experiencing a burning sensation, then your skin is most likely not taking it well or there are chances of it being a duplicate product that may contain aggressive and ineffective ingredients.
Therefore, it is important to be careful and vigilant before buying any skin-care or cosmetic products. It is recommended to buy skin-care products from the brand's official websites or an authentic and legitimate source.